General Motors's recent global recall of roughly 7 million pick-up trucks and SUVs due to potentially dangerous air bag inflators represents another example of the hazards caused by defective motor vehicles. Any defective part – tires, brakes, seatbelts, ignition switches, steering and accelerators – if not resolved, could lead to thousands of preventable injuries and deaths.
The big Detroit automaker recalled the vehicles on Nov. 23 because they contain Takata airbag inflators. General Motors contends that the vehicles are safe, but abided by a decision made by the National Highway Traffic Safety Administration (NHTSA). According to federal statistics, an estimated 30% of recalled motor vehicles remain unrepaired and on the country's roads. You and others may be driving a vehicle with defective parts and not even know it. That means every time you get behind the wheel, your life is in danger, and so are the lives of your passengers and other motorists.
Unknowingly driving a hazardous car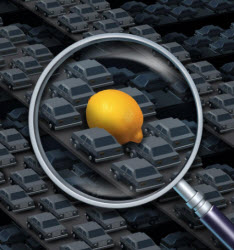 Through the years, numerous accounts have surfaced where people unknowingly bought a car with defective parts or had an auto mechanic install what turned out to be defective parts such as brakes, tires and shocks. There also have been situations in which automobile dealers sold vehicles with an open recall.
In any of these situations, you or any other motorist may be driving a ticking time bomb, waiting to go off without warning while driving to work, running errands or even taking the kids to school. That is why motor vehicle makers must take responsibility when they learn about safety hazards found on their products.
Too many times we have seen the aftermath of an accident involving a defective automobile. Life-altering, catastrophic injuries often are the result. And fatal accidents stemming from defective auto parts are not uncommon. If you have been injured in such an accident, get the medical assistance as well as legal help that you need.